Global sea level variations estimated as the common component of change across 24 globally distributed, high-resolution, continuous proxy sea level records derived from coastal sediment cores. There is a small uncertainty (±2 mm/year) in the trend over the whole record, but the shorter-term century-to-century variations are robust.
Credits: Kopp, R.E., A.C. Kemp, K. Bittermann, B.P. Horton, J.P. Donnelly, W.R. Gehreis, C.C. Hay, J.X. Mitrovica, E.D. Morrow, and S. Rahmstorf. 2016. Temperature-driven global sea-level variability in the Common Era. Proceedings of the National Academy of Sciences, Vol. 113, pp. E1434-E1441.
How is it measured?
Church, J.A. and N.J. White. 2011. Sea-level rise from the late 19th to the early 21st Century. Surveys in Geophysics, doi:10.1007/s10712-011-9119-1.
Nerem, R. S., D. Chambers, C. Choe, and G. T. Mitchum. doi:10.1073/pnas.1517056113.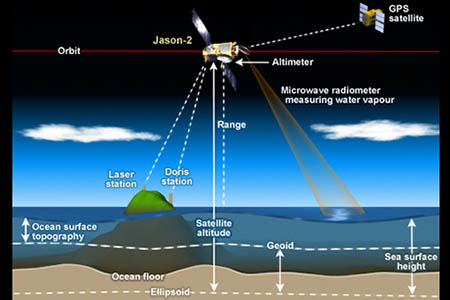 Have a look on this graph: https://www.sealevels.org
Since at least the start of the 20th century, the average global sea level has been rising. Between 1900 and 2016, the sea level rose by 16–21 cm (6.3–8.3 in).[2] More precise data gathered from satellite radar measurements reveal an accelerating rise of 7.5 cm (3.0 in) from 1993 to 2017,[3]:1554 which is a trend of roughly 30 cm (12 in) per century. This acceleration is due mostly to human-caused global warming, which is driving thermal expansion of seawater and the melting of land-based ice sheets and glaciers.[4] Between 1993 and 2018, thermal expansion of the oceans contributed 42% to sea level rise; the melting of temperate glaciers, 21%; Greenland, 15%; and Antarctica, 8%. Climate scientists expect the rate to further accelerate during the 21st century.[5]: Source wikipedia